Easy Kale & Broccoli Slaw Rice Bowl with a Spicy Thai Peanut Sauce ...and Fave Five Friday: Kale Recipes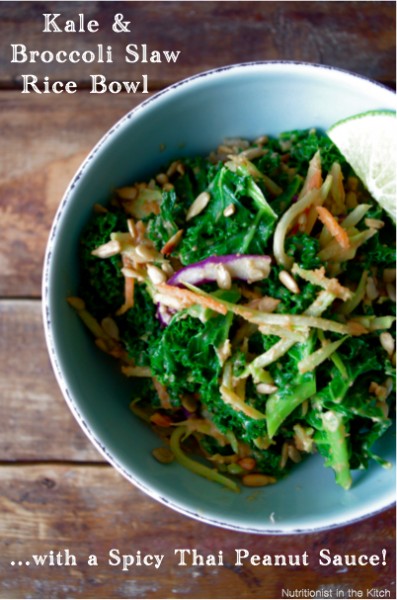 4 cups chopped Kale
2 cups packaged broccoli slaw
2 tablespoon sunflower seeds
1 cup cooked brown rice
Sauce:
3 tablespoons creamy natural peanut butter
2 tablespoons reduced-sodium soy sauce
1 teaspoon sesame oil
1 teaspoon rice wine vinegar
1 teaspoon minced garlic
½ teaspoon crushed chili flakes
½ teaspoon ground ginger or 1 teaspoon freshly grated ginger
½ packet powder stevia (optional) OR 1 teaspoon of coconut palm sugar
2-4 tablespoons water
Whisk together sauce ingredients until smooth (add more water to get a thinner sauce consistency)
Heat a non stick pan or wok at medium heat.
Add kale and broccoli slaw. Cook and stir for 2 to 3 minutes, or until
vegetables are crisp-tender, the kale has wilted, and they are coated in the sauce.
Serve over hot cooked brown rice (or quinoa) and sprinkle with the sunflower seeds.
Enjoy!
Serving size:
½ recipe
Calories:
370.4kcal
Fat:
19.9g
Carbohydrates:
39.6g
Sugar:
4.2g
Fiber:
8.2g
Protein:
15.1g
Recipe by
Nutrition in the Kitch
at http://nutritioninthekitch.com/easy-kale-broccoli-slaw-rice-bowl-with-a-spicy-thai-peanut-sauce-and-fave-five-friday-kale-recipes/